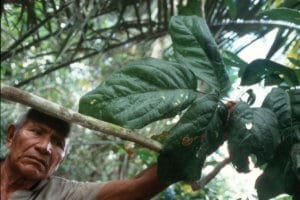 Within the northern region of Brazil,1 a woody vine with small, white flowers and elongated, fat, bean-like fruits can be found growing to lengths of up to 80 meters in length.  These vines climb surrounding canopy trees, blocking out light to the forest below.
Tynanthus panurensis, or as it is more commonly known, "Clavo huasca" has been used by the Shiphibo-Conibo, Kayapo, and Assurini Indian tribes in the Amazon to increase sexual interest for both men and women.2 Today, the use of this vine as a health supplement has expanded as we learn more about the components of this botanical and its potential impact on the human body. In Peru everyone from the city to the jungle knows about Clavo Hausca.
The vine stem is sometimes grown and used as a spice for recipes where cinnamon might be used.3  In fact, the vine and the root both have the very distinctive smell of cloves to the extent that some refer to this botanical as "clove vine" or "white clove."  It's the chemical components of this botanical that make it a far more useful plant than simply a spice, though.
Studies of the botanical are limited, but those that have been conducted revealed interesting information about its components.  One study published in 2005 found, "by LC-MS of the methanolic extract, the presence of the phenylpropanoid glycosides eugenol-O-[β-D- xylopyranosyl-(1(r)5)-O-β-D-apiofuranosyl-(1(r)6)-O-β-D-glucopyranosideverbascoside, leucosceptoside, isoverbascoside and the flavonoid katchimoside, apigenin-8-C-[β-D-xylopyranosyl-(1(r)6)-β-D-glucopyranoside."4
In 2010, The Journal of Medicinal Food published the results of a scientific study conducted at the Universidad CEU-San Pablo in Madrid, Spain.  The scientists noted that although the botanical was widely used as a natural aphrodisiac in Peruvian herbal medicine and its bark tincture was used to treat body aches, digestive problems, and serves an appetite enhancer and digestive stimulant, they could find no scientific studies indicating why the botanical was an effective treatment.  A phytochemical analysis revealed alkaloids, coumarins, antraquinones, and saponins and concluded that these contents "include potential antioxidants products that deserve further attention."  After conducting a number of in vitro and in vivo experiments, the group concluded, "T. panurensis bark extract posses properties that involve different biological mechanisms.  These results support the traditional use of this plant for numerous wellness issues and suggest that it might be a source of novel drugs."5
Today, the botanical continues to be widely used as a natural sex enhancer, and is reportedly highly effective, especially for some women.6  Other modern uses for Clavo huasca include: treatment of muscle aches, as a digestive aid to calm the stomach and increase appetite, and as a general tonic to increase muscle tone and strength.
Are you ready to try Clavo huasca?
Shopping is easy at Herbs America with our online store.  Click here to purchase Clavo huasca extract.  Adding 10-15 drops in water daily is frequently used to help with overall system restoration.   We also offer a blend of Cat's Claw, Chu Chu Huasi, Clavo Huasca, Sangre de Grado, and Iporuru together as Codizone to help minor non medical muscle aches.
Learn more and save more!
Stay up-to-date on the latest specials, news, and information from Herbs America.  Sign up to receive our newsletter and receive 15% off your first order!  CLICK HERE to get started!
---