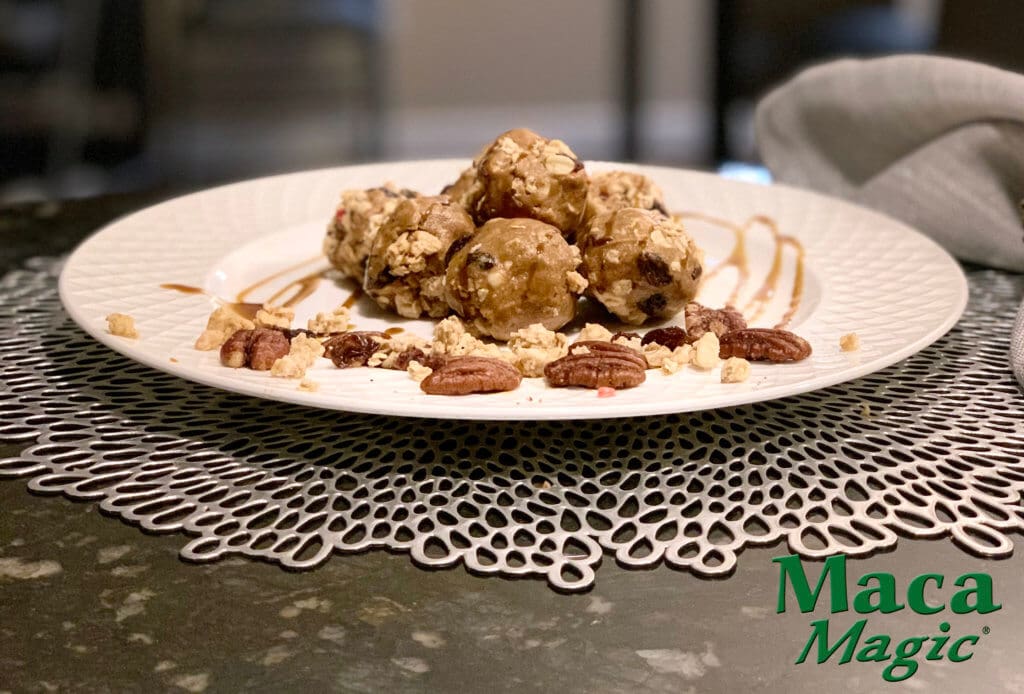 Maca Energy Balls are a healthy and delicious protein-packed snack. They serve as the perfect mid-day energy boost. Also, they're very easy to make!
Recipe inspired by Ray Flores, one of the original Z-Boys of Dogtown.
Prep time: 5 minutes
Total time: 15 minutes
Yield: About 6 balls
Ingredients for Maca Energy Balls
First, mix two teaspoons of Maca Magic™ with a half cup of your favorite nut or seed butter in a medium-sized mixing bowl. Next, add Yacon Syrup, raisins, sunflower oil (or melted butter), and oatmeal. After that, knead the ingredients in the bowl until thoroughly mixed. Finally, hand roll the mix into bite size balls. For an extra crunch, roll each of the Maca Energy Balls in granola or hemp or flax seeds. Optional: Drizzle Yacon Syrup over them for a little extra sweetness and/or top with one of our Sacha Inchi nuts.
Our maca root powder is grown organically and sustainably, high in the Andes Mountains of Peru. A nutritional storehouse loaded with vitamins and minerals, it also helps to support healthy brain and hormone function.* The Inca and earlier Peruvian cultures have used Maca (Lepidium meyenii) for more than 1,500 years. They considered it a precious commodity that promoted general health and well-being. Feel the power of the Inca!™ For more information about Maca Magic®, please visit our website.
*This statement has not been evaluated by the Food and Drug Administration. This product is not intended to diagnose, treat, cure or prevent any disease.