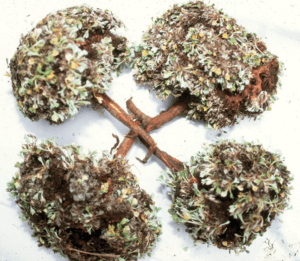 In 1994 we have observed this amazing herb growing abundantly in the Central Andes Mountains at 12,000 to 14,000 feet elevation. Even higher than where maca can be found in many cases. Known as Geranium dielsianum, or Pasuchaca, this hardy aromatic plant holds an abundance of wellness in its branches and leaves. Pasuchaca thrives between the exposed rocks on grassy high plains.  Often covered in snow or frozen solid for months at a time. Some people have described the leaf as resembling oregano but with a brighter green color and white or pink flowers. The tincture we make from this has a deep blood red coloration and fits into the the 'doctrine of signatures' because it's main claim-to-fame may someday be for regulating glucose in the blood.
Thanks to the Astute Botanical Healers of the Andes…..
Centuries of empirical knowledge have been shared by the indigenous peoples of the high Andes. It is believed that a indigenous Quechua speaking Peruvian from the high Andes shared information about Pasuchaca and its health benefits with a Spanish Doctor, Fernando Montesinos, who brought attention to the plant in 1629, by sharing it with the Spanish speaking public.1  First arriving in Payta, Peru in 1629, Dr. Montesinos was a notable physicist and a diligent researcher of the history and traditions of the Incas.2
In the year 2000 we attended a symposium in Peru and beneficial properties were documented during the FYTO symposium in Lima, Peru.3  There continues to be a positive outlook for its abilities to help the body in a myriad of ways.
The Benefits of Pasuchaca Continue to be Discovered
The phytochemical composition of this botantical contains bioflavonoids, reduction substances, anthracinonic glycosides, anthocyanidines and saponidines, essential oils with the content of sequiterpens – especially geraniol and β-citronellal, berberin, chebulagic , dehydrodigal and ethylbutan acid, slimes,fats, waxes and acacia gums.4
Throughout time, Pasuchaca has been sought by locals to support to improve metabolism.5 According to a study published in "Food and Nutrition Sciences" in 2013 by Adam Berlowski et. al., "Plants from the Geranium genus, to which Geranium dielsianum (pasuchaca) belongs, have been shown to have free radical scavenging capacities (G. macrorrhizum). Those properties have been attributed to their polyphenolic constituents. In traditional herbology of Peru G. dielsianum is widely used."6
A great deal of attention has been placed on its abilities to support wellness. In 2006, Mariko Karato et. al. published findings of their scientific studies.7 Bioflavanoids have antioxidant properties and may inhibit free radicals.
8
Ready to try Pasuchaca for yourself?
Our Pasuchaca Liquid Extract is commonly used for blood sugar support as part of healthy system restoration.  By ingesting 10-15 drops once or twice a day in water (or as recommended by your health care practitioner), you can benefit from the same botanical introduced to Dr. Montesinos centuries ago.
Visit our online store 24/7 and place your order for Pasuchaca Liquid Extract or our Pasuchaca dried botanical today!
Learn more and save more!
Stay up-to-date on the latest specials, news, and information from Herbs America.  Sign up to receive our newsletter and receive 15% off your first order!  CLICK HERE to get started!
---