To the indigenous populations of South America, the wood of the palo santo tree has sacred meaning.  Palo santo, or more specifically, Bursea graveolens, is native to Peru and Ecuador but can be found throughout the Americas from Mexico to the Galapagos Islands.1  Ceremonial uses by shamans to cleanse, protect, and heal dates back to the Incan Empire.2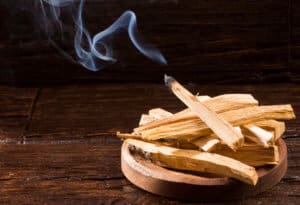 It is the wood of the tree that most people seek.  While the tree physically resembles the madrone tree commonly found in the United States, it is actually part of the citrus family and is related to frankincense and myrrh.  Its wood has a pleasurable smell with notes of pine, mint, and lemon3  and contains a high concentration of d-limonene.   D-limonene is the same aromatic molecule found in citrus and frankincense.
Palo santo means "wood of the saints" or "holy wood" in Spanish.  The wood of the tree is cut into small sticks to use for smudging.  People find the smoke clears away negative energy, cleanses the air, and provides a pleasurable centering and grounding aroma perfect for meditation. Others burn the wood simply as a pleasant aromatic, to reduce unwanted orders, and to repel mosquitoes and other flying insects.
A deeper look at the scientific properties of the tree reveals additional benefits.  Bursea graveolens is part of the Burseraceae family of trees and shrubs.  Burseraceae botanicals are chemically characterized by resins, containing triterpenoids and ethereal oils.  A group of scientists reported in a 2012 research study, "a complex mixture of compounds can be present in the plant, which imparts characteristic aromas and medicinal properties."  Their study further investigated the oil of Bursea graveolens to evaluate its anti-proliferative properties to combat a type of cancer cell (MCF-7) and a protozoal parasite (Leishmania amazonensis) and found very promising results.4
Only purchase from ethical sources!
Many have concerns about the ethical harvesting of holy wood.  While it isn't endangered, its habitat is.  It grows in dry, tropical forests that have been victim to destruction.  Susan Leopold, Ph.D., and the Executive Director of United Plant Savers estimates "only five to ten percent of dry tropical forests are still intact around the world."5
You can rest assured knowing Herbs America only uses sustainable harvesting practices for all our botanicals, including palo santo.  Ours is sourced from small farms in Peru where only dead trees are harvested for our product.  We make sure these farms focus on reforestation and maintain plentiful forests of Bursea graveolens.
Order palo santo today!
Try Bursea graveolens for yourself!  Our palo santo is available from our online store in 5.2 ounce and 1 pound quantities.  To use, simply light a stick of the wood and allow it to burn for between 30 to 60 seconds at a slight angle.  Extinguish the flame by waving the stick rapidly.  The wood will continue to produce wisps of smoke.  By walking with the stick around the room you will allow the smoke to mix with the air.  Place the smoldering wood in a fireproof container or holder to allow the smoke to continue blending with the air.
Learn more and save more!
Stay up-to-date on the latest specials, news, and information from Herbs America.  Sign up to receive our newsletter and receive 15% off your first order!  CLICK HERE to get started!
---