"What are we going to do with you, my Little Miracle?" my Aunt Irma said, fawning over me. I'd fallen down and cut myself.  It wasn't the first time.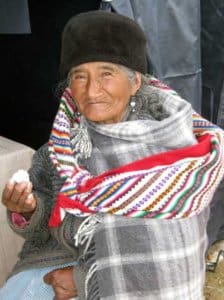 Aunt Irma reached in her satchel of woven bags, each one filled with leaves and dried flowers she had collected in Peru's local herb markets. She mumbled and pulled out three types of red twigs of, "Chuchuhuasi, Una de Gato and Sangre de Drago. To that, she added healing flowers for good measure. In a small bowl, Aunt Irma broke the herbs into fine pieces. She added a splash of warm water to saturate the compress until it was dripping out a dark red, healing elixir.
"No te preocupes, Milagritos." "Don't worry, there won't be a scar or bruise" I trusted her. She pressed as I cried like a baby. In my family, Aunt Irma was our go-to-girl, our personal "urgent care".When I think back on those days I realize that my relatives were all treated with "remedios" (formulas) that had been passed down from their parents.
In Peru's remote mountains there are often no western­ style medical doctors, and even as Peru develops today, many middle-class families cannot afford one. That's why Peruvians still value and use traditional medicines and healers (Curanderos). In the tradition of Peruvian healing, a good doctor is one who doesn't just take care of the physical problem but tries to find its cause.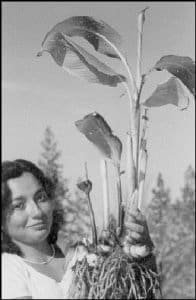 Working with medicinal plants brings me so much pride. It's now been 20 years since we started sharing the first Maca plants with farmers and herbalists in the USA and around the world. Since then, farming of Maca plants has increased from a few remote acres in the Peruvian mountains to over 20,000 acres all over the world! Who would have known, that Maca's reputation as "Peru's Ginseng" would have gained worldwide fame and that in some crazy destiny, I am just carrying on what my aunts and dad had been carrying forward from their parents. In Peru, we take our gratefulness to the Earth and her bounty to heart…
So thank you, Maca, for resisting the changes of the environment…
Thank you for staying strong through the changes of politics…
Thank you for forgiving the greed of the ones that didn't honor you enough…
Thank you for allowing us to share your healing to the world…
YUSULPALKI MAMACHA MACA