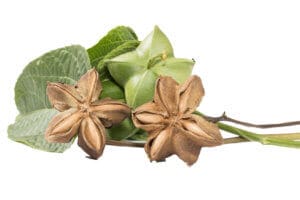 The Sacha Inchi (Plukenetia volubilis linneo) plant is indigenous to the Peruvian Amazon Forest, and produces small nuts that are extremely rich in high quality, nutritious vegetable oil.
Sacha Inchi oil was awarded the gold medal for excellent organoleptic qualities at the World Edible Oils competition in Paris, in 2004.
Sacha Inchi oil is valued as a nutritional supplement because it contains a high concentration of polyunsaturated fatty acids, making it an excellent source for Omega 3 (alpha-linolenic acid) and Omega 6 (linoleic acid). It contains no cholesterol.
This oil is the perfect supplement for people that do not eat fish or enough Omega-rich vegetables. It contains antioxidants vitamin A and vitamin E (alpha-tocopherol). It is high in protein, and rich in essential and non-essential amino acids that are important for good health.
Sacha Inchi oil is highly digestible (96%), and does not cause gas or irritation, like some other oils. It contains no additives or preservatives. Sacha Inchi has a distinctive, delicious flavor, and aroma. It is also an excellent dressing on salads and other foods…
Traditional Use:
The Inchi plant has been known by the natives of Peru and other indigenous peoples of the Amazon basin for several thousand years. In fact, historians believe the plant has probably been used by pre-Incas and the Incas over 3000 years ago, which is evident from the interpretation of the plant on vessels in Incan tombs.
Chancas Indians and other tribal groups of the region extract oil from the seeds which is used for the preparation of various meals. Roasted seeds and cooked leaves are also an important component of their diets.
Composition & Nutritional Value:
Ingredients: 100% Sacha Inchi Seed Oil
Antioxidants: Vitamin A: 681 ug, Vitamin E: 17 mg/100 g
Acid Index: 0,22
Peroxides Index: 3,13
Food Additives: None
Contents and Protein of Sacha Inchi Seed Oil vs. Other Vegetable Oils
Nutrients

Sacha
Inchi

Olive

Soy

Corn

Peanut

Sun-
flower

Cotton

Palm

Flax
(2 tbls)

Fish
(1 tbls)

Proteins

33

1.6

28

–

23

24

32

–

3.78g

0

Total oil

54

22

19

–

45

48

16

–
–
–

Palmitic Saturated

3.85

13

10.7

11

12

7.5

18

45

–
–

Stearic Saturated

2.54

3

3.3

2

2.2

5.3

3

4

–
–

Total Saturated

6

16

14

13

14

13

21

49

0.62g

4

Oleic Mono Unsaturated

8.28

71

22.3

28

43.3

29.3

18.7

40

1.33g

–

Linolenic Omega 6

36.80

10

54.5

58

36.8

57.9

57.5

10

0.84g

–

Linolenic Omega 3

48.60

1

8.3

1

0.0

0.0

0.5

0

3.51g

–

Essential Fatty Acids

84.86

11

62.8

59

36

57.9

58

10

–
–

Total Unsaturated

93.60

83

85.1

87

80.1

87.72

76.7

50

–
–