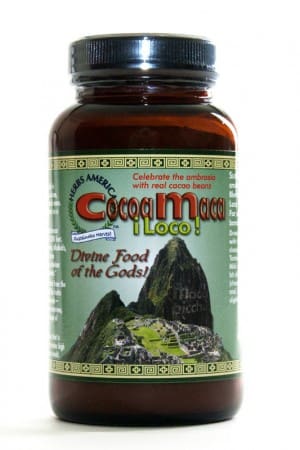 Cocoa Maca Loco Smoothie Blend – 7.0 oz Jar
$21.99
Description
Woke up one night with cacao beans on the brain. Went loco and came up with this recipe based on organic whole food and classic ingredients from the Inca and the Mayans. Tastes like the ultimate natural chocolate smoothie. Mild chocolate, creamy rich body, a bit chewy. We use real cacao nibs (unprocessed chocolate), dried Lucuma fruit, Solcana, and for an added buzz, Maca Magic organic powder.
INGREDIENTS: Organic Cacao Nibs (Theobroma cacao), Organic Maca Powder (Lepidium meyenii), Lucuma Powder (Pouteria lucuma), Solcana (Peruvian Sugar)
Organic Cocoa Nibs: The beans are rich in magnesium, calcium, iron, zinc, copper, manganese and potassium, and are a good source of vitamins A, B1, B2, B3, C, E and pantothenic acid. Cacao is one of the highest food sources of antioxidants on the planet. It contains more antioxidants than most other vegetables and fruits, with up to three times as much concentrated antioxidants as acai or goji berries. Most of the antioxidants found in Cacao are flavonoids, including anthocyanidin. Cacao also contains natural mood-boosting compounds such as theobromine and phenylethyamine.
Organic Maca Powder: Grown high in the Andes Mountains of Peru, Maca (Lepidium meyenii) has been used by the Inca and earlier Peruvian cultures for more than 1,500 years. For maximum health benefits, our Organic Maca powder is a blend of a multitude of maca root colors found naturally in each harvest. It is grown without chemicals or herbicides, and the roots are sun-dried upon harvest.
Organic Lucuma Powder: A fruit from the mid Andes that tasted like dried ice cream. Rich in beta carotene, niacin and iron, Lucuma is known traditionally for its many health benefits.
Solcana (also known as panela): This sweetener contains proteins, minerals and vitamins which are essential constituents for the body. It has a higher iron content than refined sugar. Traditionally used as a food and a nutritional supplement