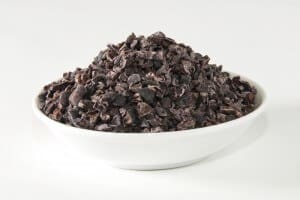 Cacao Nibs (Theobroma cacao) Organic/Kosher (1 pound)
$6.99
Description
Cacao has a long and mysterious history dating back before 1500BC in Central and South America. The tropical Cacao tree once grew wild in the Amazonia region of South America where their fruit pods were a delicious and nutritious source of food for animals. Historical evidence shows the entire cacao fruit was used for culinary purposes as well as medicinally by the Mayan, Olmec and Aztec civilizations. It is often referred to as "The Food of the Gods" because of the role it played in Mayan legend.
The beans are rich in magnesium, calcium, iron, zinc, copper, manganese and potassium, and are a good source of vitamins A, B1, B2, B3, C, E and pantothenic acid. Cacao is one of the highest food sources of antioxidants on the planet. It contains more antioxidants than most other vegetables and fruits, with up to three times as much concentrated antioxidants as acai or goji berries. Most of the antioxidants found in Cacao are flavonoids, including anthocyanidin. Cacao also contains natural mood-boosting compounds such as theobromine and phenylethyamine.
Our Organic, Kosher Cacao nibs are toasted small crunchy bits perfect for adding to cookies, yogurt, oatmeal, blending in smoothies, trail mixes, or eating by the handful!