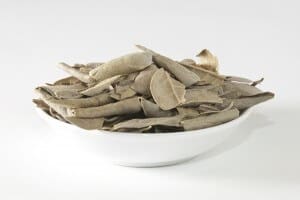 Boldo (Peumus boldus) Whole Leaf (1 pound)
$10.99
Description
Boldo (Peumus boldus) is an evergreen tree that produces small berry like fruit. The round leaves are very fragrant and used for culinary purposes, much like bay leaves are used, primarily in Latin America.
An excavation of Monte Verde in Southern Chile revealed Boldo and other herbs wrapped in seaweed which were used by people who inhabited that region 12,500 years ago.
A famed herb in the Andes mountains of Chile and Peru, Bold has traditionally been considered a strong bitter tonic and used by the natives of South America in the treatment of digestive disorders.
Boldo leaf contains the alkaloid boldine.